Prof. Lapteva Maria
VOICE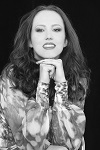 Mag. art. Maria Lapteva is a freelance Russian soprano who discovered her voice after her successful studies as a cellist. She was born in Leningrad (Russia).
Maria Lapteva gives often lessons and masterclasses for young singers. In 2016 she leads the masterclass for Singing Department Bachelor and Master Degree students at Music Academy of Vytautas Magnus University in Kaunas (Lithuania).

She often tours as a lead singer and as a member of bands in concerts in Russia, Finland, Germany, Lithuania, Poland and Austria. Maria Lapteva has focused her attention on thematic concerts and on performing arias and Lieder. She sings a broad range of music from Classical, Romantic and sacral music to contemporary pieces.
In 2015 Maria Lapteva won a Swiss scholarship from the Dr. Robert and Lina Thyll-Dürr foundation. She has also achieved success in various singing competitions:
International opera Competition "Rübezahl" (2nd prize, Karpacz, Poland, 2009),
International opera Competition (1st prize, Jyväskulä, Lempääla, Finland, 2009),
International opera Competition (2nd prize, Lonigo, Italy, 2011),
Competition of W.A. Mozart for opera singing within the framework of "Absalon scholarship" of the freemason's lodge "Absalon zu den drei Nesseln" (3rd prize, Hamburg, Germany, 2014),
Contest 1. Gustav-Mahler-Liedwettbewerb (1st prize, Hamburg, Germany, 2014) …

She sang with great success roles of Vixen and Forester's wife (Revírníková) in the opera "The Cunning Little Vixen" of Leoš Janáček, Corinna and Modestina in the opera "Il viaggio a Reims" von G. Rossini and other roles in Germany and Austria.
Maria Lapteva graduated from the Okhta College of Arts in 2003, where she studied violoncello with N.V. Tolbukhina. She a was awarded with a silver medal for special success in her studies. In 2008, she graduated from the N.A. Rimsky-Korsakov Saint Petersburg State Conservatory with a specialization in violoncello (class of associate professor Dmitry Eremin). After two years as a professional cellist, she studied singing under the auspices of honoured artist of Russia Nelly Lee, in the Pjotr Iljitsch Tschaikovsky charity association. In 2012, she graduated with a Bachelor's degree from the Music Academy of Vytautas Magnus University, in Professor Sabina Martinaytitė's opera singing class and the chamber singing class of Professor Audronė Eitmanavičiūtė (Kaunas, Lithuania). Due to excellent results in her studies and musical achievements, it took her only two years to complete the Bachelor programme. In 2014 Maria Lapteva graduated from the Master's programme of opera singing at the State University of Music Hamburg (Hochschule für Musik und Theater) in the class of Professor Mark Taker (Hamburg, Germany). Since March 2014, she has been studying for a Master's degree in music and scenic art and opera singing at the University of Music and Performing Arts in Vienna, Austria, in the Opera class of Univ.-Prof. Gabriele Lechner, and in the opera class of director, o.Univ.-Prof. Reto Nickler and conductor, Univ.-Prof. Christoph Ulrich Meier